EAR, NOSE, & THROAT CARE

Head & Neck Surgery
Head and Neck Surgery refers to procedures involving many structures, such as the thyroid gland, salivary glands, larynx.

Allergy Care
Allergy care at OHNI includes evaluation and treatment of recurrent sinusitis, ear infections, chronic nasal congestion and difficulty breathing through the nose.

Nasal & Sinus Surgery
Nasal and sinus surgery may be performed for several reasons. There are many disorders of the nose and sinuses that may cause symptoms for the patient.

Otology & Restorative Hearing
Otology & Restorative Hearing at OHNI is focused on the care of problems of the ear. Our goal is to restore lost hearing and balance in those who have suffered a loss.
Voice & Laryngology Center
Our doctors are specially trained to handle a wide range of voice and swallowing disorders, and strive to offer patients the most advanced, minimally invasive treatments.
Facial Plastic & Reconstructive Surgery
We offer a wide range of surgical and non-surgical services to enhance your appearance with minimal to no downtime.
Our Doctors
We are dedicated to delivering superior individualized patient care, unsurpassed service, and unparalleled surgical excellence.
We provide you with a culture of cooperative patient management, where you and your doctor mutually decide the best course of medical and surgical care, customized to your needs.
After treatment decisions are reached, our physicians work as your advocate to provide you the finest care available.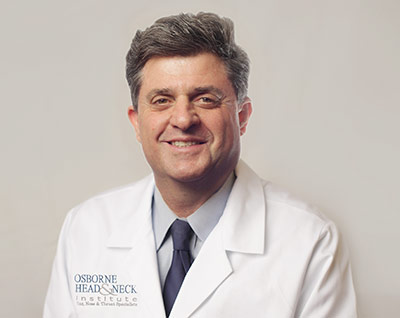 Dr. Michael Godin, MD, FACS
FACIAL PLASTIC SURGERY
Welcome to the Osborne Head and Neck Institute, an innovative ear, nose and throat / head and neck surgical practice. Our mission is to be the premiere referral source for the delivery of subspecialty care in pediatric and adult advanced ear, nose, and throat disorders; head and neck surgical oncology; and plastic and reconstructive surgery on a national level.
Contact Osborne Head & Neck Institute